I contacted the Trust and Keith supplied me with a better picture, which had come from a book, which said nothing about the location of the brickworks or the identity of T. Pearson. I checked the trade directories for the Victorian period for the whole of Hertfordshire and there was no sign of the brickworks in the listings. There was also no sign of a brickworks owner called Pearson in the Hertfordshire census returns. The hunt was on ... I had to find it ...
When I was researching Bernards Heath and the Brickworks in the St Albans area some years ago I spent a lot of time in the St Albans library making many hundred copies of news items from their microfilm of the Herts Advertiser. Only some of these were indexed - but there was a clue. In 1869 a small advert appeared:
Poles, stakes, etc, to be sold - apply to Mr Oldring, Foreman, St Stephens Brickworks, Bricket Wood.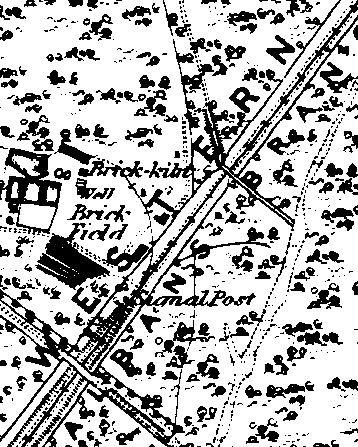 This told me me that the brickworks were at
Bricket Wood
, which I had not covered in my original research, although formerly it had been part of
St Stephens parish
. A quick check of the 1883 Ordnance Survey on the
Old Maps
web site revealed a brickworks with a railway sidings onto the Watford to St Albans branch line, south of Bricket Wood Station.
An online search for Pearson and Brick turned up a single reference to
Pearson's Brick Siding
on the London and North Western line between Watford and Bricket Wood railway stations - from a Victorian
Handbook and Appendix of Stations, Junctions, Sidings, Collieries, etc
- so I knew I had found the right brickworks.
Now that I knew where it was I could look for evidence in the census returns. The earliest mention was in 1861 when a number of people were living on the Brick Field - but no brickmakers. In 1871 a single brickmaker was listed. Ten years later
Charles Alexander
was listed as foreman brickmaker supported by five brickmakers. By 1891
William Maskell
had been promoted to the post of foreman with seven brickmakers or brickmakers labourers. The yard had closed by the time of the 1901 census.
It was possible to extract additional information from the census by using it to follow up the careers of the brickmakers - and noting where their children were born - which makes it possible to find out when they moved to the Bricket Wood area - and when they moved away. This process established a link with a brickworks near Rickmansworth, which in turn provided evidence that
Charles Alexander
probably move to Bricket Wood with his son in about 1872. I also discovered that one of the brickmakers,
Charles Butcher
, was already mentioned elsewhere - for stealing money while working at another brickworks. Further details of all the brickmakers are given on the
main site
.
In any research like this you can often end up with even more questions that need answering. For instance T. Pearson and Mr Oldring have not yet been identified.
If you can provide any more information about the brickworks and brickmakers please tell me,