When we are researching our ancestors we can come up against a problem for children born to non-conformist parents before July 1837. At least some of the people affected were very much concerned at the time and news item
Registration of the Children of Dissenters
from 1829 shows that some were writing to their Member of Parliament urging that something should be done about it.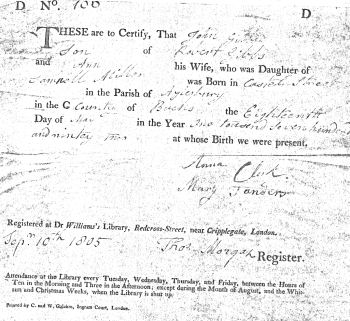 A Non-conformist Birth Certificate.
So if you are struggling to get back beyond the 1837 "barrier" this news item will help you to understand how the problem was seen at the time.
But there some deeper questions. Why was a petition from a small chapel in Aylesbury given such prominence in a London daily such as
The Times
. One of the factors was the importance of politics - but it might also be that one of the people who attended the meeting in the chapel was
John Gibbs
, who may have been the Aylesbury correspondent for the paper, and also a strong supporter of Lord Nugent, the local M.P.. See the
full account
for more details, which also gives an example of a non-conformist birth certificate from
Dr William's Library
.