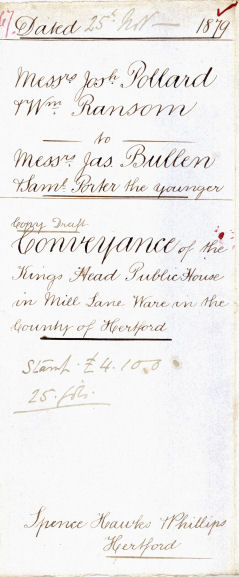 This Document is "rather boring"
Oh No - it isn't
Legal documents can be difficult to read, and it is very easy to dismiss them, when they can contain a wealth of information. I saw an advertisement on ebay for "Copy draft conveyance of the Kings Head pub - Ware, Hertfordshire: Larger than A4 and on 8 sides. Messrs Joseph Pollard and William Ransom to James Bullen and Samuel Porter the younger - 1879. It was situate in Mill Lane. The document is full of the usual legal terminology and rather boring." and I purchased it for £0.99 just to see what it said.
But it turned out that it was not just any old conveyance. The King's Head, Ware, had been owned by the Lucas family of brewers who had been brewing beer in Hitchin since 1709. As a result I have produced an annotated copy of the text, identifying the many people mentioned as a far as possible. Following up leads I track down a court case in Chancery over a will, and a long list of other public houses, mainly in Hertfordshire, which were owned by the Lucas family,
Read what I have written and you will never again assume that a legal document must be boring!